Somerset couple celebrate 80th Wedding Anniversary
Eric and Nancy (Annie) Kingston are Somerset born and bred. Nancy was born in Westhay and Eric in Panborough. They were married on 1 June 1940 and moved to Blackford where they have lived ever since.
Below is a copy of a newspaper articles published on their 75th wedding anniversary by the Cheddar Valley Gazette which gives background information and a sense of their lives.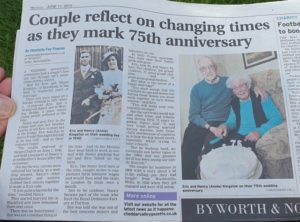 They are very normal, everyday people in many ways but very special to their family and friends. They have lived very full lives and always have a story to tell with a great sense of humour. They still do much for themselves and although they have had their challenges along their 80 years together but they have always found a way through things; working it out together. They met when Nancy sent a message for Eric to meet her on the bridge. He had intended to go out with friends that night but 'did as he was told.' One of their granddaughters remarked that: "that is why it's worked so well, for so long; he's done as he was told!'
In terms of celebrations on the day, with the Coronavirus movement restrictions in force; the plan is that people are going to congregate outside their house for 6pm. This will be a mixture of family, friends and villagers. The Blackford singers intend to sing a couple of songs for them and the village have bought them a rose bush for their garden which will be presented to them. Again, one of the granddaughters has said" I think they will enjoy this as they are very much missing seeing people during lockdown but appreciate they are more fortunate than many, particularly as my uncle lives with them".
In terms of a gift, the family have bought an oak bench, (as this is the designated anniversary gift for 80 yrs), which is going to be placed in Blackford church. They also have an oak tree which is to be planted in the village – location to be confirmed but again likely to be in church grounds. There will, of course, be cake and most likely, a glass of bubbly to celebrate!
Below are 2 photographs – one on their wedding day 1 June 1940 and the second showing them together that was taken in May 2020.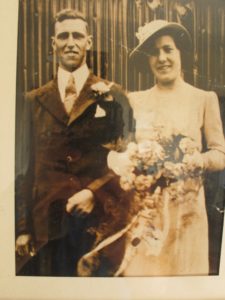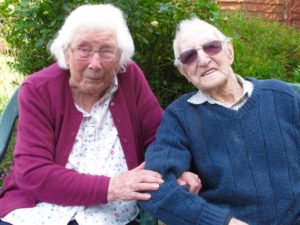 Entry added: 1 June, 2020